How to Get BEP20 Address? For Crypto Airdrops
What is BEP20?
BEP20 is a standard used for creating tokens on Binance Smart Chain. Tokens are valuable components of a blockchain-based system, Decentralised app (DApp), platform, or economy. Tokens facilitate the movement of value and track activities on the blockchain. So, they are a key to conducting many different kinds of transactions.
BEP stands for Binance Smart chain Evolution Proposal. BEP20 is a token standard Binance created for Binance Smart Chain. Binance Smart Chain is the smart contract platform, and it runs parallel to the original Binance Chain.
Trust Wallet supports BEP20 Tokens
What are BEP20 Tokens?
BEP20 represents a token standard that is on the Binance Smart Chain 7.5k.
BEP20 is similar to ERC20 714 tokens that are issued and implemented on the Ethereum 281 blockchain.
After adding Binance Smart Chain 4.5k, Trust Wallet devs have also implemented the support for BEP20 tokens. Download the most recent version of the app in order to start receiving BEP20 tokens on your wallet.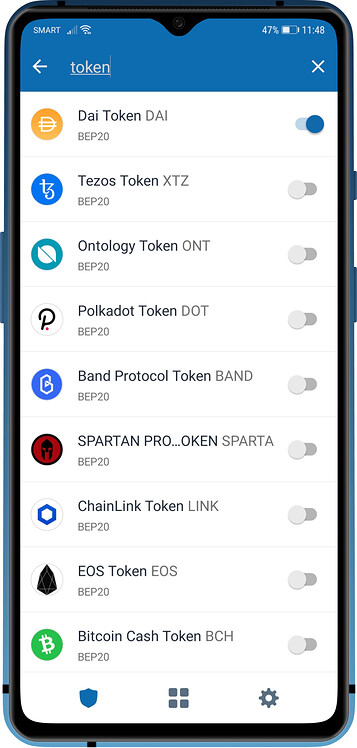 How to Get BEP20 Address?
Smart Chain wallet will be enabled by default as soon as you Create a new wallet. If you do not see it yet, try to do a search and look for "Smart Chain".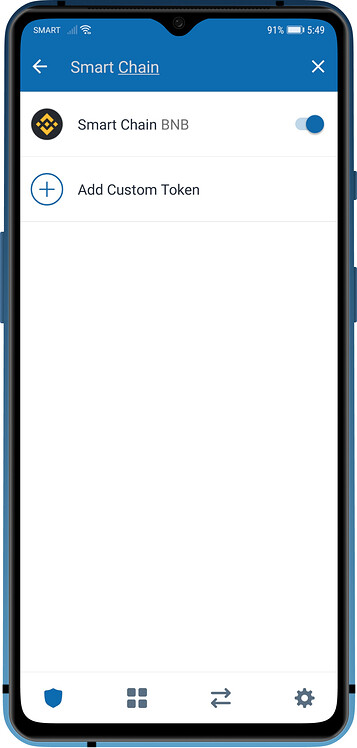 Open your Smart Chain wallet, tap on Receive to get your BEP20 address. In case you are wondering why BNB shows on the screenshot, it is because Binance Coin 704 is also the main token used on Binance Smart Chain. Tap on Copy or Share your QR code for the Smart Chain address.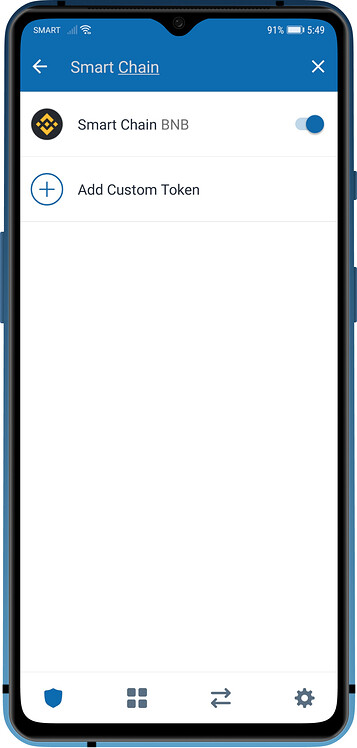 How to withdraw BEP20 tokens to Trust Wallet
For this example, we will withdraw some DAI as a BEP20 token. Access your Binance account wallet, tap on DAI, then tap on Withdrawal. You will notice that Binance has several options available. Choose BEP20 Network.
Note:
ERC20 is on the Ethereum network while BEP20 is on the Binance Smart Chain.
Sending to a wrong network may lead to loss of funds.
Get your Smart Chain address on Trust Wallet and paste it on the Withdrawal address on Binance.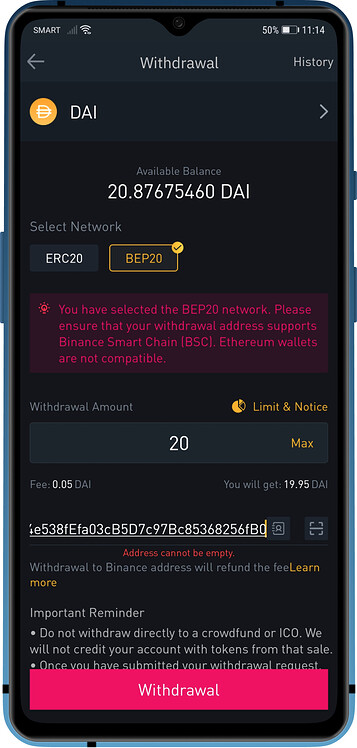 Complete the withdrawal process and wait for the tokens to be sent to your wallet. Done.