CHZ continues to lead the market in gains as more anticipation builds toward the World Cup. The go-to fan token was seen keeping an intraday profit of 7.37%. It reached a local high of $0.246 during the day before retracting to its current price of $0.242. Despite falling below its trading-day floor, it quickly bounced back, leaving traders with substantial profits.
CHZ week-on-week charts also indicate bullish momentum for the fan-themed token. Holding 8.58% profits, CHZ's price looks confident over the entire market as tokens struggle to gain some ground. Despite the World Cup anticipation driving high trading volume, CHZ's founder's offer to bail out stranded FTX users also helped push prices higher.
As per data retrieved from CoinMarketCap, CHZ also holds gains against the top guns. At press time, CHZ held over 5% gains ahead of BTC and ETH. The token is already on a path to touch its intraday high and might see a positive break out.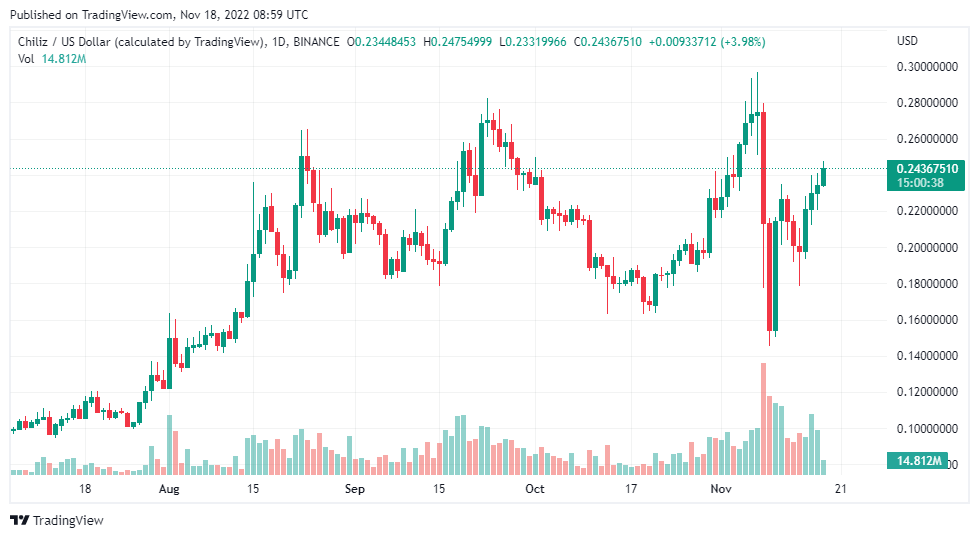 CHZ Founder Isn't so Bullish On NFTs In The Sports Industry
Due to its connection with sports tokens, Chiliz has experienced a resurgence in investor interest in its native cryptocurrency, CHZ. Alexandre Dreyfus has seized the chance to emphasize why Chiliz has a promising future in the sports sector. 
The CEO talked about NFTs, which he mentioned was an awesome way to connect fans with their favorite teams. However, Dreyfus mentioned that most NFTs in the market lack utility. He added that this is a major reason why fans lose interest in these initiatives over time.
Dreyfus added that scalability might not be NFTs' strongest suit. As a substitute, he said that fan tokens are a fantastic way to scale a team. This is so that teams may utilize them to create powerful digital communities since they are fungible. He added; 
It's this ability to provide access and individual recognition to audiences at huge scale that sets Fan Tokens apart.
CHZ Active Wallets Increase As Supply On Exchanges Fall
The number of active addresses (30-day) has increased since November 6th. This demonstrated greater user interaction and may be a sign of an optimistic mood. Additionally, the weighted sentiment score was in the green, indicating that CHZ had a good social media outlook.
However, on-chain metrics revealed that throughout November, the percentage of supply on exchanges had decreased. This is quite unlikely, considering the huge drop in price within the week. Specifically, CHZ saw a price dump on the 14th that took its value to the $1.88 region. 
This drop is further witnessed in its 24-hour trading volume. Despite posting impressive intraday and week-on-week gains, the token trading volume dropped 24.38%. Even after all these, CHZ tokens have been moved off of exchanges. Given these stats, its active wallet increase might indicate that traders are not looking to spend their CHZ in the short term. This also suggests that there may be a buildup from bigger market participants.
Featured image from Pixabay and chart from TradingView.com


Thanks
#Chiliz #CHZ #Leads #Market #Gains