XRP has the right fundamentals to chart a bullish path in 2023, and traders will be better off managing their expectations right.
Dear readers, welcome to today's episode of Coinspeaker Advent Calendar with a specific focus on XRP coin. Out of the thousands of digital currencies around today, a few have a unique history that generally makes them stand out from their peers. XRP is one of these cryptocurrencies, a payment digital currency that is among the oldest in the blockchain world.
XRP was designed to serve as the complementary digital payment token for blockchain payment service provider Ripple Labs Inc.
The coin's existence has been quite a myriad for US regulators, fueling a challenging limitation for the coin's growth thus far. While the crypto industry has been very well-bedeviled with the influence of Central Banks raising interest rates in a bid to curtail inflation, XRP has had its own significant headwinds which have added to its retarded growth.
The cryptocurrency is currently changing hands at $0.389, an 89.88% drop from its all-time high price of $3.84. The graph below shows the summary of the trend of the XRP coin over the past 12 months.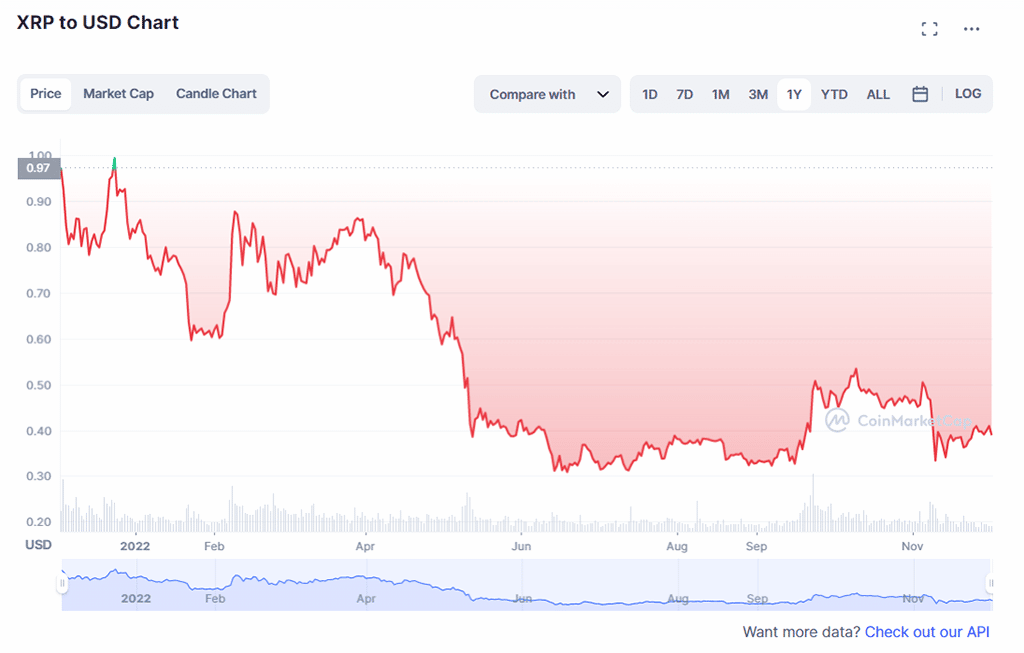 As shown above, XRP went on a steep fall from its peak of roughly $1 early in the year to a low of $0.2906. Despite this drop, XRP has maintained its committed community, and for those interested in investing in the coin next year, here are crucial price points to expect in all the months of the coming year;
January 2023: $0.3100
February 2023: $0.4000
March 2023: $1
April 2023: $1.2000
May 2023: $1.5000
June 2023: $1.7000
July 2023: $2.0000
August 2023: $2.2000
September 2023: $1.8000
October 2023: $2.5000
November 2023: $2.6000
December 2023: $2.0000
Justification for the Projected XRP Price
There is a unique rationale for the expected massive upshoot in March next year. This rationale hinged on the likelihood that the ongoing case between Ripple and the United States Securities and Exchange Commission (SEC) would have come to an end, and in the blockchain payments firm's favor.
Should the ongoing securities lawsuit end in Ripple's favor, XRP is bound to experience a rejuvenation in how investors perceive the digital asset. While Ripple argues that the coins serve as a payment token, the regulator is adamant that the coins were sold to investors as an unregistered security.
A precedent is bound to be set here and if in Ripple's favor, will serve as a positive reference for the broader industry at large. While the timeline for when the decision will be passed is yet unknown, Ripple has scored some important wins against the SEC and many are expecting victory in the lawsuit.
To note, the opposite will also come true should Ripple lose the lawsuit and as investors place the coin on their watchlist, a high degree of caution should also be given to events that may not turn out as planned.
The coming year holds many impressive but hard-to-decipher trends for the digital currency ecosystem. XRP has a solid positioning in the industry and its ecosystem is tight-knit, one advantage the coin has which helped it stay resilient in the face of its many adversities.
In summary, XRP has the right fundamentals to chart a bullish path in 2023, and traders will be better off managing their expectations right. Watch out for our next episode of Coinspeaker Advent Calendar.
Work It

Benjamin Godfrey is a blockchain enthusiast and journalists who relish writing about the real life applications of blockchain technology and innovations to drive general acceptance and worldwide integration of the emerging technology. His desires to educate people about cryptocurrencies inspires his contributions to renowned blockchain based media and sites. Benjamin Godfrey is a lover of sports and agriculture.
Thanks
#XRP #Price #Forecast #Coinspeaker #Advent #Calendar